The Christmas Special 2011 is a special episode aired during season 6 of Arby 'n' the Chief.
Master Chief and the Arbiter pin up their Christmas stockings for Santa on Christmas Eve.
The episode begins with Arbiter and Chief putting up their stockings. We then see Arbiter hide the gift he got for Chief (Halo: Combat Evolved Anniversary) in the closet and addressed to Chief from "Santa". Chief inquires how good he has been for Santa, saying that he has been letting Arbiter play The Legend of Zelda: Skyward Sword every day. Arbiter obviously disagrees, saying that he only lets him play for about five to eight minutes before Chief starts his 24-hour Reach session, and they get into an argument. They talk about how Chief plays too much with Chief obviously disagreeing.
The Arbiter eventually tires of the argument and goes to bed. Chief sees this as an opportunity to enact some revenge on Arbiter for calling him a "prick". Chief then pours thumb-tacks into Arbiter's stocking, saying "MERRY CHRISTMAS FUCKFACE".
The episode ends with the message "to be continued".
Transcript
Edit
Main article:Christmas Special 2011/Transcript
Episode How-To's
Edit
HOW TO get Santa to stop at your house first out of seven billion people
HOW TO get Santa to bring you Halo: Combat Revolved University Edition
HOW TO kick Santa's ass
HOW TO kill and eat Santa's reindeer
HOW TO give a heartwarming gift
Watch the Episode
Edit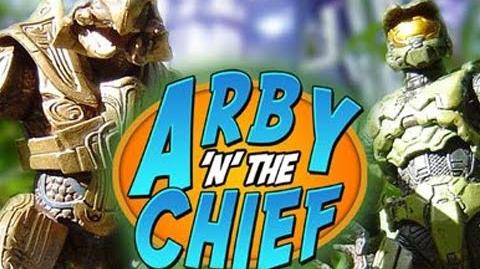 Ad blocker interference detected!
Wikia is a free-to-use site that makes money from advertising. We have a modified experience for viewers using ad blockers

Wikia is not accessible if you've made further modifications. Remove the custom ad blocker rule(s) and the page will load as expected.