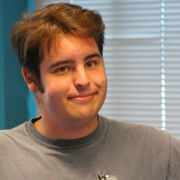 Ian Beckman is the voice actor of Cameron, an antagonist of Season 5 and a supporting character of Season 6. He also voices Leonard, Jeremy Keenen, one of Kylie's bodyguards and a player at the memorial in "Reapers". Beckman also directed most episodes of Arby 'n' the Chief in L.A. and is credited as the casting director for the fifth and sixth season.
Ad blocker interference detected!
Wikia is a free-to-use site that makes money from advertising. We have a modified experience for viewers using ad blockers

Wikia is not accessible if you've made further modifications. Remove the custom ad blocker rule(s) and the page will load as expected.