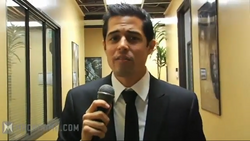 Khail Anonymous is an American voice actor and Machinima Inc. associate most known for portraying Adam McIntyre in the Arby 'n' the Chief series. He also voiced the leader of the modding group in Season 5. In Season 7 he voices Tyler King in the episode "Barbie 'n' the Chief". Khail Anonymous also served as the cameraman in CJG@E3.
Ad blocker interference detected!
Wikia is a free-to-use site that makes money from advertising. We have a modified experience for viewers using ad blockers

Wikia is not accessible if you've made further modifications. Remove the custom ad blocker rule(s) and the page will load as expected.