The fifth season of Arby 'n' the Chief was first officially announced on January 3rd, 2011 on Jon Graham's blog, and premiered on January 22nd with the release of the episode "House of Cards".
The season marked a major shift in the series' style and mood; from a lighthearted comedy consisting of mostly self-contained episodes, it transformed into a more action-driven show with a season-long storyline, focusing on realism and character development. The show earned a new pixel art title card based on the one used in the previous season, and featured original electronic tracks by Jon Graham more prominently.
Arbiter and Master Chief continue doing their daily activities, and begin sharing it with their new friend Greg, to Arbiter's happiness and Chief's weird dismay. But things also begin change when Arbiter reunites with Claire, his long time love interest, and hears about her getting married to Trent Donnovich, who appears as the season's main antagonist. When both Arbiter and Chief start to discover something sinister about Trent, it is up to them to stop Claire from making a fatal mistake marrying him.
Episodes
Edit
Screenshot
Title
Air Date
Code
#
"House of Cards"
January 22, 2011
5-01
39
Master Chief, Arbiter, and Greg celebrate Christmas while Gaming Corporate Tycoon Trent Donnovich announces an in-game wedding.
"Duck Love"
January 29, 2011
5-02
40
Arbiter and Greg decide to make their own show about gaming.
"Low on Hearts"
February 5, 2011
5-03
41
Arbiter reunites with Claire online, but learns something shocking about her.
Season 5
Screenshot
Title
Air Date
Code
#
"Rock Bottom"
February 12, 2011
5-04
42
Master Chief challenges an MLG Player and his partner while Arbiter is rocked with depression about Claire's revelation.
"Hypernews I"
February 19, 2011
5-05
43
The Arbiter and Master Chief air the first episode of their show, Hypernews.
"Drunken Halo"
February 26, 2011
5-06
44
Arbiter and Master Chief get drunk after the failure of Hypernews, and Arbtier runs into Claire again.
"Time Wasters"
March 5, 2011
5-07
45
Arbiter teaches Master Chief how to play better at Halo.
"Da Bomb"
March 12, 2011
5-08
46
Master Chief and the Arbiter are invited to visit Trent's Church and Staff.
"Double Trouble"
March 19, 2011
5-09
47
Master Chief has a rematch with the MLG Players, Cody and Cameron, and Arbiter must join him.
"Hypernews II"
March 26, 2011
5-10
48
The Arbiter and Master Chief air the second episode of their show, Hypernews.
"Stag Night"
April 2, 2011
5-11
49
Arbiter is invited to Trent's Stag, but he refuses to let Chief come too in fear of him ruining him.
Season 5
Screenshot
Title
Air Date
Code
#
"Cheaters"
April 16, 2011
5-12
50
Things take a turn for the worse when Arbiter and Chief learn a dark secret about Trent and are banned from the server from telling anyone about it.
"Collapse"
April 23, 2011
5-13
51
Armed with Console-banning hacks, Arbiter and Chief storm Trent's Church in hopes of stopping his wedding before it's too late.
Season 5
Main article: Season 5 Soundtrack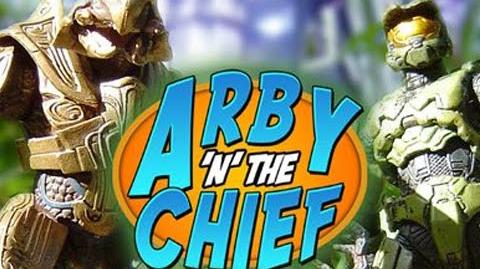 Ad blocker interference detected!
Wikia is a free-to-use site that makes money from advertising. We have a modified experience for viewers using ad blockers

Wikia is not accessible if you've made further modifications. Remove the custom ad blocker rule(s) and the page will load as expected.