The eighth season of Arby 'n' the Chief premiered on November 5, 2015 with the release of "Fatal Exception", and is currently developed and released on an irregular schedule. This season is the first that Jon Graham developed completely independently from Machinima Inc., under his new production studio moniker Imaginative Logo Productions; production of new episodes is funded via Patreon.
The season picks up where the previous one left off; after committing suicide, the main characters find themselves on a spaceship, in a weird afterlife/shared dream state, and finally end up reincarnated at Jon's new apartment.
Production
Edit
Throughout the last quarter of 2014, numerous teasers regarding the writing and production of an eighth season were released by Jon as well as a poll asking whether an eighth season should be made. Following the near-unanimous results (84% of the votes were in agreement compared to the opposing 15%), Jon confirmed through many posts on his Twitter that he was indeed working on the eighth season, culminating in a teaser trailer for the season being uploaded to Jon's YouTube channel. Since then, he has also uploaded over fifty songs that will make up the eighth season's soundtrack.
Details revealed
Edit
Numerous details and story elements of this season have been revealed in advance via Jon's Twitter and live streams:
The discussion of how Arbiter and Master Chief possess a consciousness despite being toys and what their purpose in life is.
The character of Jon Graham appearing again, possibly with a larger role. 
A happier ending, similar to season 6's finale.
A returning villain, one that Jon Graham describes as (sic) "the most despicable villain in the series and could possibly make another appearance given the way he went out." There will also be two additional villains, both of which are also characters from previous seasons. [1] In a concept teaser released on August 30th, 2015, a character with a similar appearance to Adam made an appearance.
An "evil fortress-type" map in Halo: Reach will be one of the settings.
The show will contain numerous flash-forwards and flashbacks.
Episodes
Edit
Screenshot
Title
Air Date
Code
#
"Fatal Exception"
November 5, 2015
8-01
90
Four years after forfeiting their lives to fiery oblivion, two action figures of the Halo series of games' principal characters inexplicably find themselves in a parody of Stanley Kubrick's 1968 film 2001: A Space Odyssey...
"Nervewreck"
December 15, 2015
8-02
91
Having awakened aboard the Cargo Ship Truth and Reconciliation, Arbiter and Cortana look to PAL for answers as to why exactly they're on board.
"Party Time"
February 20, 2016
8-03
92
In spite of PAL's unfounded misogyny, Cortana attempts to befriend the robot for the sake of the success of the crew's mission. With the two often at odds, Arbiter struggles with keeping the peace as well as his paranoia in light of the lethal contents of the ship's cargo bay and hallucinations of a mysterious stalker.
"Bad Dream"
April 16, 2016
8-04
93
PAL reveals the cause of the ship's high alert status to be the imminent failure of a critical component of the ship's communications system.
"Reentry"
June 22, 2016
8-05
94
Cortana makes the executive decision as the mission's Captain to deactivate PAL. Arbiter's torn between his odd-couple friendship with the robot and his respect for Cortana as his friend and superior. Meanwhile, PAL may have other plans.
"Lockout"
September 15, 2016
8-06
95
Arbiter attempts a life-or-death negotation with PAL.
"Triple Fault"
November 22, 2016
8-07
96
After PAL proves itself to be extremely dangerous, Arbiter takes drastic measures to disable the robot.
"Warhead"
March 24, 2017
8-08
97
With the ship hijacked by deadly Space Allen soldiers obsessed with violating the rear ends of all lifeforms throughout the universe to death and led by the terrible alien king Xanthar, Arbiter is forced to fight or die.
Act I
Screenshot
Title
Air Date
Code
#
"No Purpose"
May, 21, 2017
8-09
98
The '2001: A Space Odyssey' arc is over. Having awakened from their dream states, the toys find themselves alive and together once again within the confines of their owner Jon's bedroom. Chief's happy. Arbiter, on the other hand...
"Future Shock"
September 2, 2017
8-10
99
The toys are back inexplicably in Jon's room after being dead for four years. While Chief searches for Jon's copy of Halo: Reach so he can play it and troll people online, Arbiter uses Jon's computer and internet connection to catch up on current world affairs.
Act II
Trailers
Edit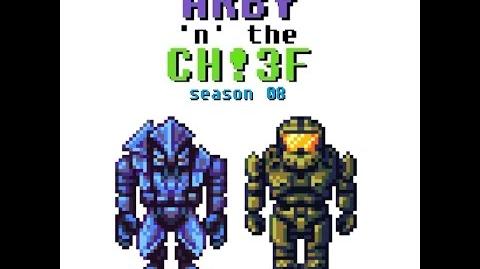 References
Edit
Ad blocker interference detected!
Wikia is a free-to-use site that makes money from advertising. We have a modified experience for viewers using ad blockers

Wikia is not accessible if you've made further modifications. Remove the custom ad blocker rule(s) and the page will load as expected.