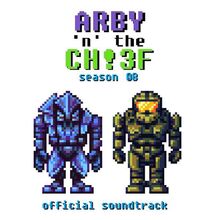 The soundtrack for the eighth season of Arby 'n' the Chief is being continuously released via Jon's SoundCloud account since 2015. A cover for the soundtrack was unveiled by Jon on his Twitter account on January 19, 2015. So far, over 70 tracks have been released.
The soundtrack contains elements of electro-pop, indietronica, techno, noise, house, and ambient music.
Track links
Edit
External links
Edit
Ad blocker interference detected!
Wikia is a free-to-use site that makes money from advertising. We have a modified experience for viewers using ad blockers

Wikia is not accessible if you've made further modifications. Remove the custom ad blocker rule(s) and the page will load as expected.