Technodicks is a song composed by Jon Graham for Arby 'n' the Chief. It is associated with Chief's idea for Hypernews, Technodicks.
It is used in Hypernews II.
u r so not rdy 4 this.
EVERYBODY TAKE A SEAT
AND WATCH THIS TREAT IS REALY NEAT
ITLL SURELY MAEK UR LIFE COMPLET AND MAEK U SKEET UR MALE GAMEETE
HYPERNEWS IS FUCKING L33T AND SO IT THIS FANTASSTIC B33T
SO LETS ALL JUMP LIEK CATS IN H33T AND CHECK MY AWESOME CARTOON M33T ITS TECHNODICKS
TECHNO TECHNO TECHNO TECHNO TECHNODICKS
ITS TECHNO DICKS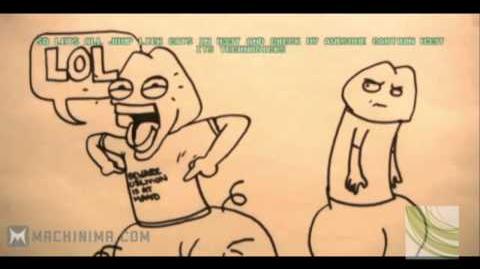 Ad blocker interference detected!
Wikia is a free-to-use site that makes money from advertising. We have a modified experience for viewers using ad blockers

Wikia is not accessible if you've made further modifications. Remove the custom ad blocker rule(s) and the page will load as expected.